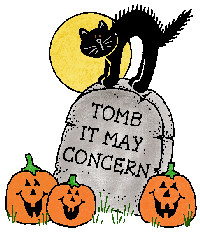 Halloween is a whole lot of fun for children but it can also be dangerous. We need to make sure that they understand that thinking safety, is really important on Halloween. My program is designed to teach specific safety rules that will help insure that they have a safe Halloween.
As in all my programs this information will be taught is a fun and interactive way using:
Magic
Music
Story Telling
Laughter
Audience Participation
"On behalf of the faculty and students at Theodore Roosevelt School, thank you for your outstanding "Halloween Safety" magic program. It was enjoyed by all, and the Halloween theme was very appropiate and educational. Congratulations on a job well done, and we hope to see you again!"
Thomas J. Slaiman ~ Principal

We'll have a lot of fun while learning some very important safety rules. I'll be sharing things from the list below.
Carry a flashlight with fresh batteries after dark.
Take along money for a phone call.
Wear identification that's easy to read.
Always trick or treat in groups, accompanied by an adult.
Follow a curfew and take a watch with a backlight.
Plan your route ahead of time.
Stay on the sidewalks and out of the streets. Cross only at intersections and designated crosswalks.
Walk. No running.
Don't trample through flower beds and gardens.
Watch out for open flames in jack-o-Lanterns.
Trick or treat in familiar neighborhoods.
Walk with your head up and be aware of your surroundings.
Only visit well lit houses. Don't stop at dark houses.
Don't enter any houses unless you know the people.
Carry a spare Halloween bag -- in case yours breaks or you fill your original one.
Don't approach unfamiliar pets and animals.
Don't cut across yards and stay out of back yards.
Follow traffic signals and don't jaywalk.
Always watch for cars backing up or turning.
Review the "stop, drop and roll" procedure in case your costume catches on fire.
Never accept rides from strangers.
Respect other people and their property.
Be polite and say "thank you."
Don't eat any candy until it's inspected for tampering under bright lights.
Avoid candy that has loose wrappings, is unwrapped, has puncture holes, or is homemade.
*** We also provide a Teacher's Guide for use after we're gone.