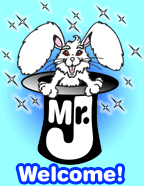 "On behalf of the faculty and students at Theodore Roosevelt School, Thank you for your outstanding "Halloween Safety" magic program. It was enjoyed by all and the Halloween theme was very appropiate and educational". Congratulations on a job well done and we hope to see you again!
Thomas J. Slaiman, Principal


"Compared to other programs we've had yours was the best. I rate the program excellent, Everyone really enjoyed themselves. Your program added the extra something we were looking for. We'll certainly have you again in the future".
Mrs. Arlington, South Branch Library


"I want to thank you for the wonderful program you presented at my child care center. All the children sat amazed through the entire show. The adult staff also enjoyed your magic, and are still wondering how you did some of your tricks. Even some of our more excitable children sat and watched patiently as you presented your program. We'll certainly see you again real soon".
Lynn Offhause, Director Small Miracles Child Care Center


"David and Kathleen Jeffers have entertained the residents of Child's Nursing Home on several occasions. They have a great talent for relating to the audience and encouraging audience participation. The magic show was a delight to watch. I encourage anyone who is looking for a program to invite them into your facility, you won't be dissapointed".
Cindy Ferrari, Child's Nursing Home

It was my pleasure to work with Mr.J, David Jeffers during the Concerned Parents For Drug Free Schools program held at Lake Shore Central Schools. He was very relaible and innovative in creating an anti-peer pressure theme in his magic act. I would not hesitate to retain his services again for any project involving impressionable youngsters.
Patricia Long, Niagara Mohawk Corporation


During our annual Kids Days Celebration I employed Mr.J to entertain our young customers. His show and performance turned out to be a huge success. Both the youngsters and their parents were highly entertained. He was scheduled for two performances at my store. Many of our customers returned for the second show even though it was on the following day. Tops received many favorable comments on the show. The next time we need someone to entertain at one of our special promotions, we'll certainly think of Mr. J first.
Jeff White, Manager Tops Markets
Dear Mr.J, your magic show at our school breakfast was a big success. The children were totally awed!.
Pineherst Elementary PTA
Dear Mr. Jeffers, On behalf of the Heathwood activities Dept. I'd like to thank you for the smiles and and good cheer you shared with our residients. Looking forward to seeing you again.
Heathwood activities Dept.




These are just a sampling of the many reccomendations we have on file. I hope to add your name here in the near future. See ya soon.